National Professional Qualifications 
Learners First is delighted to be an NPQ Delivery Partner offering the DfE Accredited National Professional Qualifications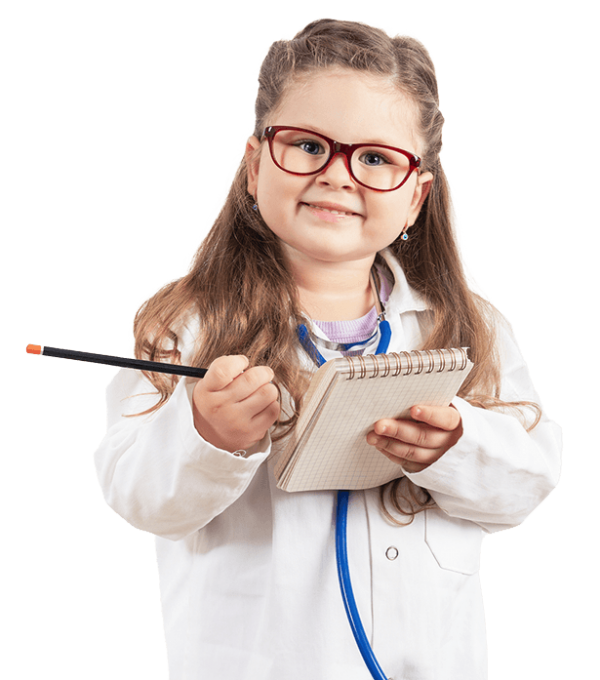 Learners First and the Teacher Development Trust
Having been a successful DfE Accredited NPQ provider since 2012, Learners First Schools Partnership is delighted to be a delivery partner of the Teacher Development Trust (TDT), offering the full suite of NPQ qualifications. As the only delivery partner to TDT in the local area within South Yorkshire and Derbyshire, Learners First is committed to continuing to deliver the highest quality professional development and networking opportunities for leaders and teachers through our delivery of the DfE's golden thread of reforms.
The Teacher Development Trust (TDT) charity has been a leading name in staff and leadership development for almost a decade. The charity has championed school improvement through leadership development whilst supporting hundreds of schools, publishing research, advising government and in its campaigning work. TDT'S research and development is focused on school improvement through people development to ensure a culture that sticks. The organisation's vision and values resonate with those of Learners First. We are also working in partnership to develop professional learning opportunities beyond the DfE accredited qualifications.
Currently, all NPQS are fully funded by the DfE for all teachers employed in state funded schools, academies and 16-19 providers. (Please see the NPQ Funding & Costs section below for further details).
I am delighted to welcome the brilliant Learners First Schools Partnership into the TDT delivery partnership. They're making Teacher Development Trusts NPQs (fully fUnded by DfE) available across South Yorkshire. Sign up here!
David Weston, CEO – The Teacher Development Trust
TESTIMONIALS FROM CURRENT PARTICIPANTS
A successful interview yesterday. A huge contributing factor was the high quality CPD and learning I have received from Learners First and my NPQSL and ongoing NPQH study. I cannot recommend the networking and development opportunities enough - Connor, NPQH
The flexibility of blended learning through the online portal, face to face sessions and live webinars helps me plan my time around work and family
The facilitators are experienced teachers and school leaders who bring the theory to life, sharing real life scenarios and problems to challenge our thinking. They use good humour too!
I didn't realise how much I have missed working with colleagues from different schools. We have already set up our WhatsApp group and I'm having a visit next term
Thank you Learners First. After passing by NPQML during a tricky year last year, I appreciate the continued support and guidance through the new NPQSL programme
I am loving the opportunity to explore the latest research. It links to my work in school really closely
My head encouraged me to study the NPQLTD alongside the Middle Leadership – Excellence in practice. They complement each other so well.

Find Out More – Free Information Briefings
To find out more about the NPQs, the course structure, content, assessment and which one is right for you or your team, please join us for any of the free information webinars below:
To speak to one of our team or for individual queries, please email info@learnersfirst.org with your query and we will be glad to help.
Ready to apply? Please see below.

Register Your Expression of Interest for an NPQ
You must then register as soon as possible directly via Step 2
Register Directly with the DfE
For this you will require your Teacher Reference Number (TRN)
Please tick the Teacher Development Trust as Lead Provider
Complete the TDT Application Form 
This will be sent directly to you from TDT after you have completed the DfE Registration (Step 2)
Please tick Learners First Schools Partnership as your Delivery Partner
Learners First will contact you directly to finalise registration and begin induction

*managers of private, voluntary and independent nurseries, headteachers of school-based or maintained nurseries, childminders with leadership responsibilities and who are employed in a maintained nursery school in England, in a pre-school class that's part of a school in England, in a nursery that is registered on the Ofsted Early Years Register, as a childminder and registered on the Ofsted Early Years Register, or with a registered Childminder Agency.
Specialist NPQ Qualifications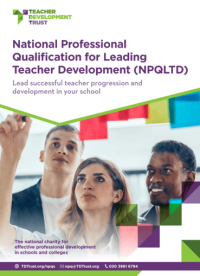 NPQ Leading Teacher Development (NPQLTD)
For teachers who have, or are aspiring to have, responsibilities for leading the development of other teachers in their school. They may have responsibilities for the development of all teachers across a school or specifically trainees or teachers who are early in their career.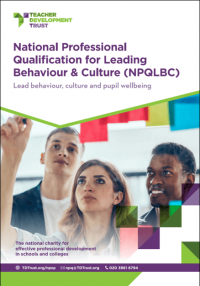 NPQ Leading Behaviour and Culture (NPQLBC)
For teachers who have, or are aspiring to have, responsibilities for leading behaviour and/or supporting pupil wellbeing in their school.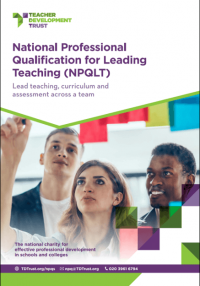 NPQ Leading Teaching (NPQLT)
For teachers who have, or are aspiring to have, responsibilities for leading teaching in a subject, year group, key stage or phase.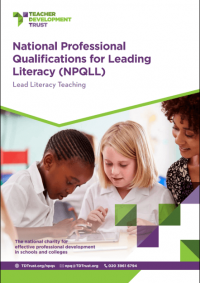 NPQ Leading Literacy (NPQLL)
A brand new NPQ for those who are leading literacy programmes across a school, year group, key stage or phase, or who are aspiring to such roles in the future.
Leadership NPQ Qualifications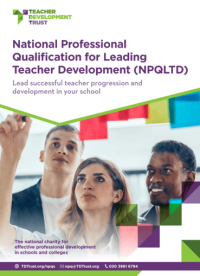 NPQ Early Years Leadership (NPQEYL)
A completely new NPQ for leaders in early years settings, qualified to at least Level 3 who are, or are aspiring to be, managers of Private, Voluntary and Independent nurseries, headteachers of school-based or maintained nurseries, or childminders with leadership responsibilities
The NPQEL will be delivered locally through Learners First Schools Partnership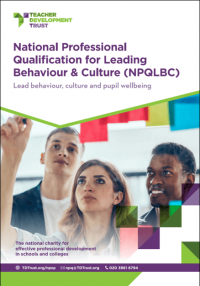 NPQ Senior Leadership (NPQSL)
For school leaders who are, or are aspiring to be, a senior leader with cross school responsibilities.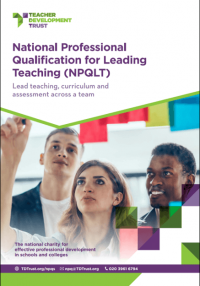 For school leaders who are, or are aspiring to be, a head teacher or head of school with responsibility for leading a school.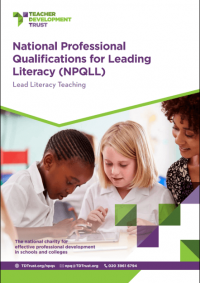 NPQ Executive Leadership (NPQEL)
For school leaders who are, or are aspiring to be, an executive head teacher or have a school trust Chief Executive Officer (CEO) role with responsibility for leading several schools.

THE NPQ CURRICULUM PRINCIPLES
Delivery of the curriculum is grounded in the following values:
SMART –  about what the evidence tells us, but we also really care about how things are done.
HEART – it's not just taking the evidence base and implementing it any old way, it needs to be done in the right way if you want to have that sustainable impact.
HUMBLE – we recognise that there is no single perfect answer to any situation – participants will come from different environments, different schools, different contexts – and we need to understand the limits of what the evidence tells us at times and use our judgement.
The NPQ experience will benefit you:
To develop knowledge and understanding of how to apply the evidence on your area of focus (of the NPQ)
Through a blended learning experience which fits around your role where you learn and discuss key content online delivered in a way that suits the busy working lives of teachers and leaders
To undertake local virtual and face to face sessions that focus on real problem-solving, creating understanding, connecting with your peers and gaining depth of knowledge
Through support and ongoing preparation to give you confidence to pass the final assessment
Through expert facilitation and support from serving setting and school leaders in and delivery at local venues
The experience will benefit your school or trust by:
Developing you as a skilful and research-informed leader who can contribute to a cohesive, impact-focused school leadership team
Supporting you to develop practical capability to get on with the job of developing others with the skills to lead with people and teams, creating change and impact
Coaching you to become a professionally aware and informed leader who can make evidence-based decisions and approach leadership in an effective and efficient manner
Enabling your ability to review and evaluate practice in order to bring about change and get the best outcomes for young people and staff within the organisation

2022/23 Programme Schedule

A blend of flexible online learning, online discussion, virtual workshops and face-to-face workshops, for a few hours study each week over the duration of the course
An end point assessment where you will complete a 1500-word case study assessment to demonstrate your understanding of course content
Evidence-informed curriculum design, connecting you to the latest research and best practice. The research-rich course covers all of the core content in the government's Framework for each qualification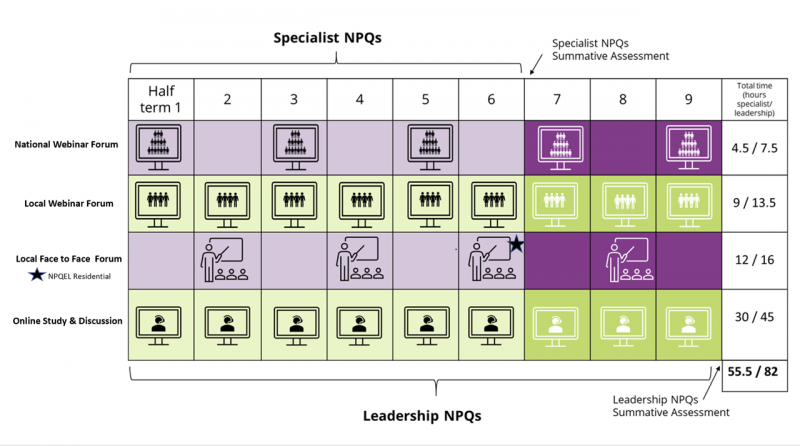 Each NPQ qualification is fully funded for all teachers*and leaders* who are employed in state funded schools and state funded organisations that offer 16-19 places in England.
If you are not eligible for scholarship funding, you can still undertake an NPQ. The costs for NPQs are determined by the lead providers appointed by the Department for Education.
For further information on funding please refer to our lead providers website below
*Access to funding remains conditional on successful validation of your registration information against the Teacher Regulation Agency records. You must ensure that the information supplied in the application process matches your teacher record.

HOW ARE THE NPQs ASSESSED?
The assessment process for NPQs has been refreshed to reduce the workload burden on teachers while still providing an opportunity for them to apply their knowledge. To pass the courses, teachers will need to engage with at least 90% of the course and pass one Summative Assessment. The NPQ Summative Assessments will take the form of a case study covering the content in the relevant NPQ Content Framework and represent a likely situation to be faced by a Teacher at the relevant NPQ qualification level or role. A different case study and mark scheme will apply for each cohort group.
TESTIMONIALS FROM CURRENT PARTICIPANTS
'The case studies are fantastic opportunities to think about how I would lead teaching and learning in my own and another setting. Understanding the research around cognition and curriculum design is helpful' Briony, NPQ Leading Teaching
'The facilitators on my NPQ Senior Leadership programme are really knowledgeable, challenge my thinking and share real life examples to reinforce the key learning' John NPQ Leading Literacy
'My NPQ has introduced me to so many new ideas and people to link within the region. I have even visited another school and have invited people into my school. I wouldn't have had this opportunity if I hadn't joined the course'. Sean NPQ Leading Teaching
'I have enjoyed the NPQ so far and have found the modules really informative. It has been very useful to attend the face to face sessions and discuss practice. I feel that I can apply what I have learnt to my own practice and it has helped me to be reflective.' Jill, NPQ Early Years Leadership (Private Nursery Manager)
'I really enjoy the face to face workshops as I like to share ideas and learn from other practitioners. I find online studying quite heavy and lots of reading material which I'm not used to. The content is very beneficial and relatable to my current practice.' Sue NPQ Early Years Leadership